BCMS-business partnership produces good results all around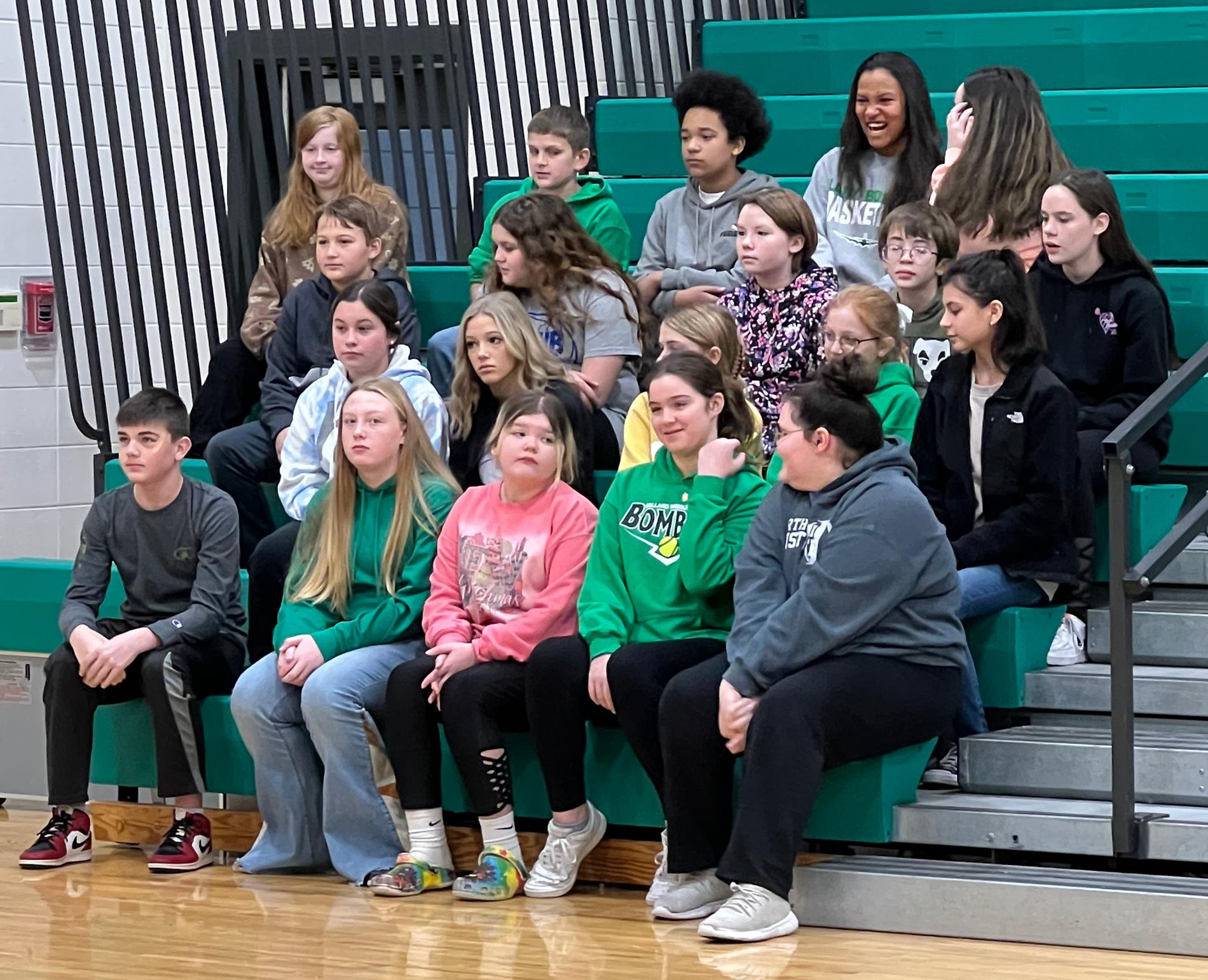 ---
Cutline: Seventh-grader Luke Forrester (bottom row, left) was the lucky winner of the $100 prize donated by The Giving Tree last week. He'll be able to choose from numerous gift certificates for local community businesses, as well as online purchases.
The results to the COVID pandemic response have challenged educators in many ways – how to correct learning loss, improve attendance, get students back in the habit of good behavior. Not surprisingly, the latter two items have a substantial impact on the first.
Enter Christy Webster and the local boutique, The Giving Tree. She contacted Ballard County Middle School Principal Amber Parker, to ask how she could help out this semester, to the tune of $100 per week. Along with TGT's Grace Travis, they devised a plan.
As it happens, the district's new strategic plan also prioritized positive contact with parents, so Parker took advantage of that, as well. "I gave the teachers postcards, so they could write down 'shout-outs' for exemplary actions by students," she said. "Things like being kind to a classmate, giving extra effort on a project, that kind of stuff. They bring at least three postcards to me on Thursday, and all students mentioned are put into a drawing." The postcards later are sent home to parents, she added.
Students can get more than one shout-out a week, and every one is an entry into the drawing. All of the students are recognized at the school's weekly Friday morning assembly. Travis usually comes from The Giving Tree, to act as emcee and ringmaster, Parker said, adding, "She really gets them fired up!" Three names are drawn from the shout-outs to participate in the Grand Prize Game (think of the old Bozo TV show). That winner gets a prize like lunch from a local restaurant.
Then all names go back in the hopper for a drawing – for a $100 gift certificate provided by The Giving Tree. But here's the beauty: The $100 can be redeemed for a number of prizes, not just at TGT. The winning student goes to the BCMS office, and chooses among certificates from a number of local businesses, as well as cards for online purchases. The certificates can be mixed.
"Of the $1,600 we've given away so far this semester, over $1,000 has been spent right back here in the community," Parker said. "And the kids have surprised us about what they've spent their money on." Sure, some of the $100 is spent on Amazon, or Xbox. But there also is money spent at Bomber Grill, or Greg's, or She Brews. And that money often is spent on picnics or lunches for the student's whole family.
"Our discipline referrals are down, and so is the number of missing assignments," Parker said. "Students are working harder, being more conscientious, trying to get those shout-outs. We're also seeing a wide range of students being recognized – kids who aren't necessarily recognized for being athletes, or on the honor roll. Just kids doing good things, for themselves and others."
She continued, "It's a win-win-win. The students get something, a lot of the money goes back to the community, and we're getting great results on things that matter at school."