Public is invited to annual Veterans' Day program on Friday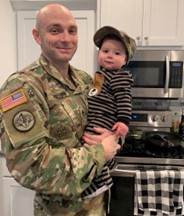 ---
The community is invited to our annual Veterans' Day program, to be held Friday, Nov. 11, at 1:15 p.m. in the gym at 3561 Paducah Road, Barlow.
Guest speaker
will be Barry Phillips, a member of our district's staff. He served on active duty 2011-15, and was assigned to the 3rd Cavalry Regiment at Ft. Hood, Texas; he had one deployment to Afghanistan in support of Operation Enduring Freedom in 2014. Phillips currently is serving as a drill sergeant in the U.S. Army Reserves.
He is a health and PE teacher here. Phillips and his wife, Amanda, have two children.
The elementary, middle, and high school choirs will perform, along with the Bomber Band. Veterans will be recognized, and there will be a candle lighting ceremony for all Ballard Countians who lost their lives defending our country.